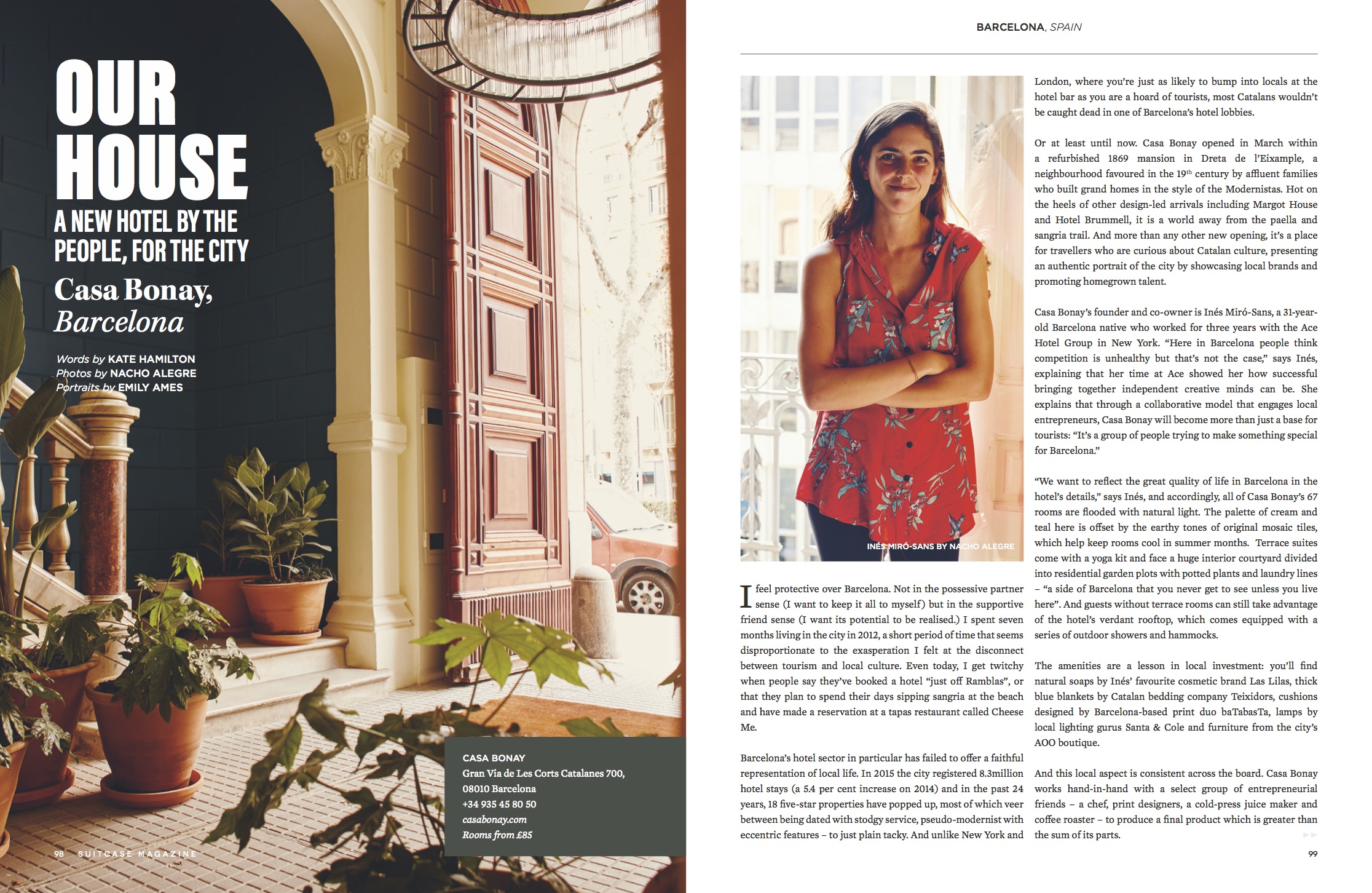 Read words below or at SUITCASE Magazine here
I feel protective over Barcelona. Not in the possessive partner sense (I want to keep it all to myself) but in the supportive friend sense (I want its potential to be realised.) I spent seven months living in the city in 2012, a short period of time that seems disproportionate to the exasperation I felt at the disconnect between tourism and local culture. Even today, I get twitchy when people say they've booked a hotel "just off Ramblas", or that they plan to spend their days sipping sangria at the beach and have made a reservation at a tapas restaurant called Cheese Me.
Barcelona's hotel sector in particular has failed to offer a faithful representation of local life. In 2015 the city registered 8.3million hotel stays (a 5.4 per cent increase on 2014) and in the past 24 years, 18 five-star properties have popped up, most of which veer between being dated with stodgy service, pseudo-modernist with eccentric features – to just plain tacky. And unlike New York and London, where you're just as likely to bump into locals at the hotel bar as you are a hoard of tourists, most Catalans wouldn't be caught dead in one of Barcelona's hotel lobbies.
Or at least until now. Casa Bonay opened in March within a refurbished 1869 mansion in Dreta de l'Eixample, a neighbourhood favoured in the 19th century by affluent families who built grand homes in the style of the Modernistas. Hot on the heels of other design-led arrivals including Margot House and Hotel Brummell, it is a world away from the paella and sangria trail. And more than any other new opening, it's a place for travellers who are curious about Catalan culture, presenting an authentic portrait of the city by showcasing local brands and promoting homegrown talent.
Casa Bonay's founder and co-owner is Inés Miró-Sans, a 31-year-old Barcelona native who worked for three years with the Ace Hotel Group in New York. "Here in Barcelona people think competition is unhealthy but that's not the case," says Inés, explaining that her time at Ace showed her how successful bringing together independent creative minds can be. She explains that through a collaborative model that engages local entrepreneurs, Casa Bonay will become more than just a base for tourists: "It's a group of people trying to make something special for Barcelona."
"We want to reflect the great quality of life in Barcelona in the hotel's details," says Inés, and accordingly, all of Casa Bonay's 67 rooms are flooded with natural light. The palette of cream and teal here is offset by the earthy tones of original mosaic tiles, which help keep rooms cool in summer months. Terrace suites come with a yoga kit and face a huge interior courtyard divided into residential garden plots with potted plants and laundry lines – "a side of Barcelona that you never get to see unless you live here". And guests without terrace rooms can still take advantage of the hotel's verdant rooftop, which comes equipped with a series of outdoor showers and hammocks.
The amenities are a lesson in local investment: you'll find natural soaps by Inés' favourite cosmetic brand Las Lilas, thick blue blankets by Catalan bedding company Teixidors, pillows designed by Barcelona-based print duo baTabasTa, lamps by local lighting gurus Santa & Cole and furniture from the city's AOO boutique.
And this local aspect is consistent across the board. Casa Bonay works hand-in-hand and under one roof with a select group of entrepreneurial friends – a chef, print designers, a cold-press juice maker and coffee roaster – to produce a final product which is greater than the sum of its parts.
Chef Estanislao Carenzo, described by Inés as a Japanese man trapped in an Argentinian body, is behind Casa Bonay's restaurant space, which functions as two separate pop-ups within one room. Têt, the lunchtime offering, serves reasonably priced Vietnamese, while Elephant, Crocodile, Monkey infuses local market produce with Asian flavours come evening.
Estanislao says: "I was trying to get rid of labels," and his approach seems applicable to the hotel as a whole. Painted a deep shade of green with dim lighting, black concrete flooring and a scattering of rattan chairs, Casa Bonay's main space Libertine defies easy categorisation, and at various times feels like either a living room, elegant townhouse bar or a private members' club. (Inés says: "What happens in your house when you do a dinner and you drink too much? You put music on and you dance on the sofa!")
The menu at Libertine, which caters to guests who may have become tired of Catalan tasting menus and focuses on eight variations of 'soul food', is an indicator of Estanislao's global approach to cuisine. He says: "In jazz, musicians play standards which listeners will always recognise within the main melody. We're trying to do this with food, taking eight classics from around the world and making them work together. I'm from Argentina, so my standard is asado (grilled meat) but for my friend in Italy it might be a pasta dish. The flavours should feel like home, like you're taking care of your soul." Libertine serves food from 12PM to 3AM, including communal one-pot dishes while DJs play on Thursday and Friday nights, offering the city a much-needed option for late-night eating.
Libertine's dark-green sofas are brought to life with colourful printed accents, created by the same local design duo as the rooms' cushions. baTabasTa founders Leti and Clara had moved to Shanghai when they were working for Spanish designer Ágatha Ruiz de la Prada, and discovered the cosmopolitan city was the perfect place to open their own business. The pair began making printed shirts and uniforms for hotels and restaurants, but returned to Spain after a year in order to develop their business in Europe. Leti says: "In Shanghai it's easy to start a business but if you want to develop they ask for huge quantities and distribution." The duo's designs for Casa Bonay pick up on the area's masonic history, employing symbols of eyes and triangles, while their wallpaper in the lobby bathrooms picks up on the brand's Asian background, with colourful prints of Thai prostitutes.
Tacked onto the front of Casa Bonay, you'll find Mother, the second outlet of the first cold-press juicery in Spain. Like Leti and Clara, Mother's co-founder Gemma was inspired to start her business while abroad. During a stint living in California, she grew accustomed to drinking green juices as part of a healthy lifestyle and is now adapting the trend to Barcelona. Explaining her reception in the city, she says: "People don't embrace things immediately here, they question and second-guess things. There was a lot of education we had to do. We had to explain that cold-press juice isn't a snobby idea; that it benefits your health and can also be fun and taste good."
This sentiment is echoed by Marcos Bartolomé, the founder of Satan's Coffee Corner. As well as overseeing Casa Bonay's breakfast menu, Marcos staffs an espresso bar and serves coffee to passers-by via a streetside window. The 26-year-old says: "Locals are particularly hard here in Barcelona," going on to explain that he initially struggled to get people to pay a fair price for good-quality, ethical coffee when they were used to cheap consumer brews. Slowly, however, people's ideas are changing. Marcos says: "When I created my business it was with the idea of giving the city a little gift, like here – this is for you."
Casa Bonay is made possible by a group of young, creative people. And by engaging with homegrown talent, the hotel is making a contribution to Barcelona, rather than widening the rift between tourism and local life. Despite the difficulties of starting a business here (neither the local nor federal government provides support to young entrepreneurs and it's very difficult to meet tax expectations when starting out) Casa Bonay's collaborators are passionate about their city. Inés says: "A lot of people in Barcelona have moved abroad – New York, Shanghai, London – but everyone comes back. You don't get the same quality of life anywhere else."
She adds: "We invited our 70 year-old neighbour to come dancing with her friends and she's coming tomorrow!" Inés smiles as she looks around Libertine, the city's very own living room, before saying: "That's the spirit of Casa Bonay. We want to connect with people in Barcelona today."