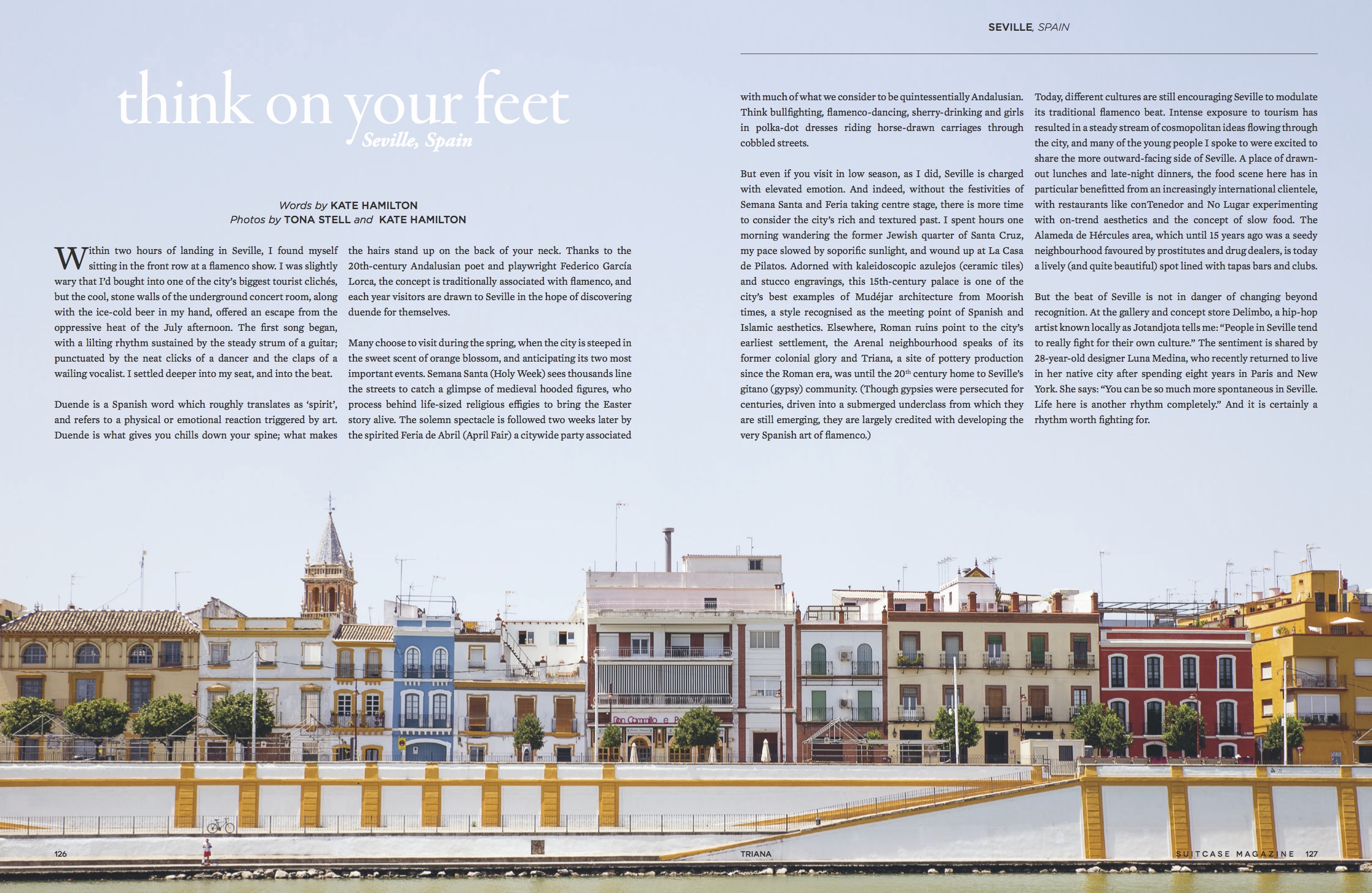 Within two hours of landing in Seville, I found myself sitting in the front row at a flamenco show. I was slightly wary that I'd bought into one of the city's biggest tourist clichés, but the cool, stone walls of the underground concert room, along with the ice-cold beer in my hand, offered an escape from the oppressive heat of the July afternoon. The first song began, with a lilting rhythm sustained by the steady strum of a guitar; punctuated by the neat clicks of a dancer and the claps of a wailing vocalist. I settled deeper into my seat, and into the beat.
Duende is a Spanish word which roughly translates as 'spirit', and refers to a physical or emotional reaction triggered by art. Duende is what gives you chills down your spine; what makes the hairs stand up on the back of your neck. Thanks to the 20th-century Andalusian poet and playwright Federico García Lorca, the concept is traditionally associated with flamenco, and each year visitors are drawn to Seville in the hope of discovering duende for themselves.
Many choose to visit during the spring, when the city is steeped in the sweet scent of orange blossom, and anticipating its two most important events. Semana Santa (Holy Week) sees thousands line the streets to catch a glimpse of medieval hooded figures, who process behind life-sized religious effigies to bring the Easter story to life. The solemn spectacle is followed two weeks later by the spirited Feria de Abril (April Fair) a citywide party associated with much of what we consider to be quintessentially Andalusian. Think bullfighting, flamenco-dancing, sherry-drinking and girls in polka-dot dresses riding horsedrawn carriages through cobbled roads.
But even if you visit in low season, as I did, Seville is charged with elevated emotion. And indeed, without the festivities of Semana Santa and Feria taking centre stage, there is more time to consider the city's rich and textured past. I spent hours one morning wandering the former Jewish quarter of Santa Cruz, my pace slowed by soporific sunlight, and wound up at La Casa de Pilatos. Adorned with kaleidoscopic azulejos (ceramic tiles) and stucco engravings, this 16th-century palace is one of the city's best examples of Mudéjar architecture from Moorish times, a style recognised as the meeting point of Spanish and Islamic aesthetics. Elsewhere, Roman ruins point to the city's earliest settlement, the Arenal neighbourhood speaks of its former colonial glory and Triana, a site of pottery production since the Roman era, was until the 20th century home to Seville's gitano (gypsy) community. (Though gypsies were persecuted for centuries, driven into a submerged underclass from which they are still emerging, they are largely credited with developing the very Spanish art of flamenco.)
Today, different cultures are still encouraging Seville to modulate its traditional flamenco beat. Intense exposure to tourism has resulted in a steady stream of cosmopolitan ideas flowing through the city, and many of the young people I spoke to were excited to share the more outward-facing side of Seville. A place of drawn-out lunches and late-night dinners, the food scene here has in particular benefitted from an increasingly international clientele, with restaurants like conTenedor and No Lugar experimenting with on-trend aesthetics and the concept of slow food. The Alameda de Hércules area, which until 15 years ago was a seedy neighbourhood favoured by prostitutes and drug dealers, is today a lively (and quite beautiful) spot lined with tapas bars and clubs.
But the beat of Seville is not in danger of changing beyond recognition. At the gallery and concept store Delimbo, a hip-hop artist known locally as jotandjota tells me: "People in Seville tend to really fight for their own culture." The sentiment is shared by 28-year-old designer Luna Medina, who recently returned to live in her native city after spending eight years in Paris and New York. She says: "You can be so much more spontaneous in Seville. Life here is another rhythm completely." And it is certainly a rhythm worth fighting for.
Read full city guide at SUITCASE Magazine here