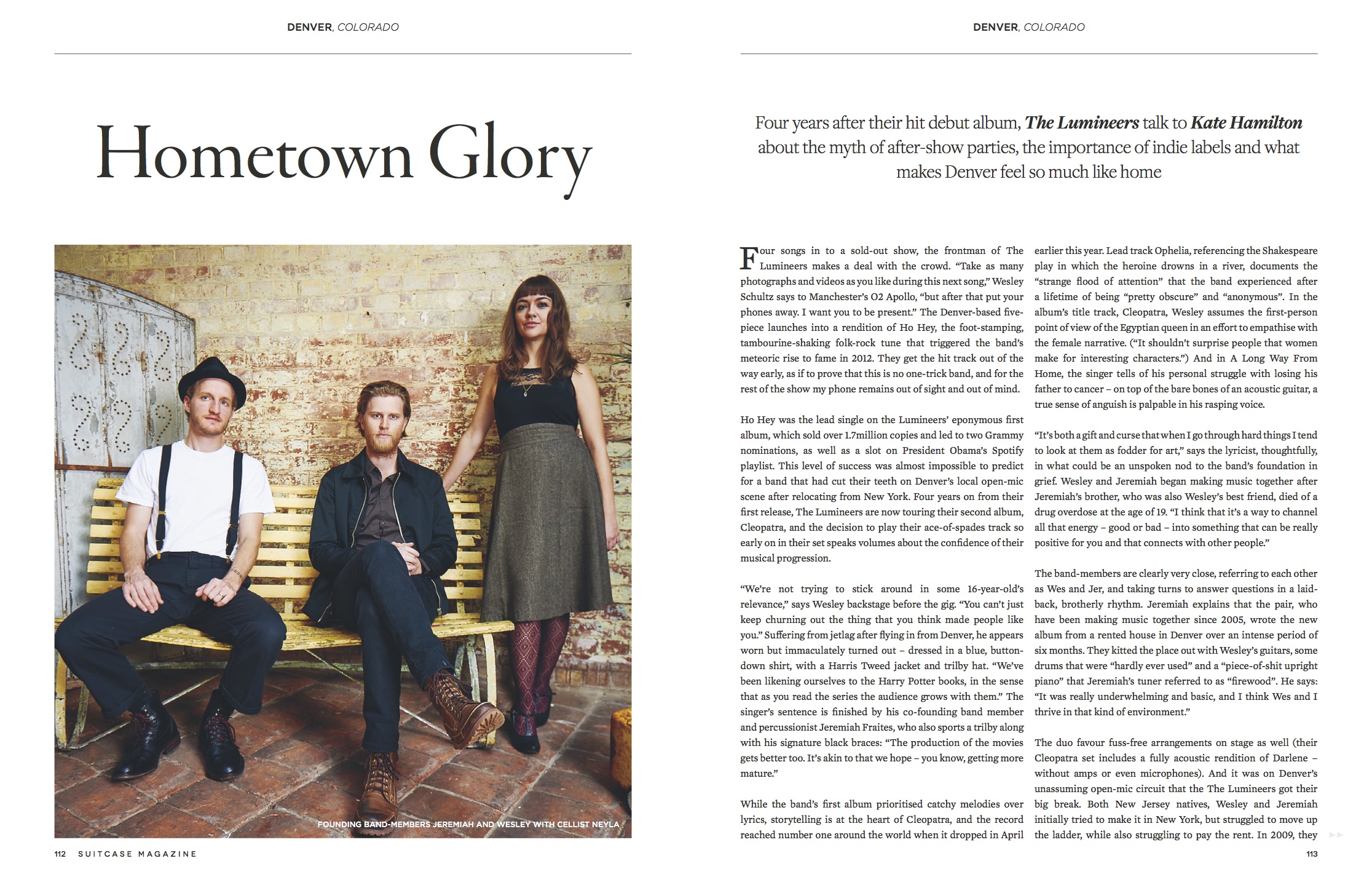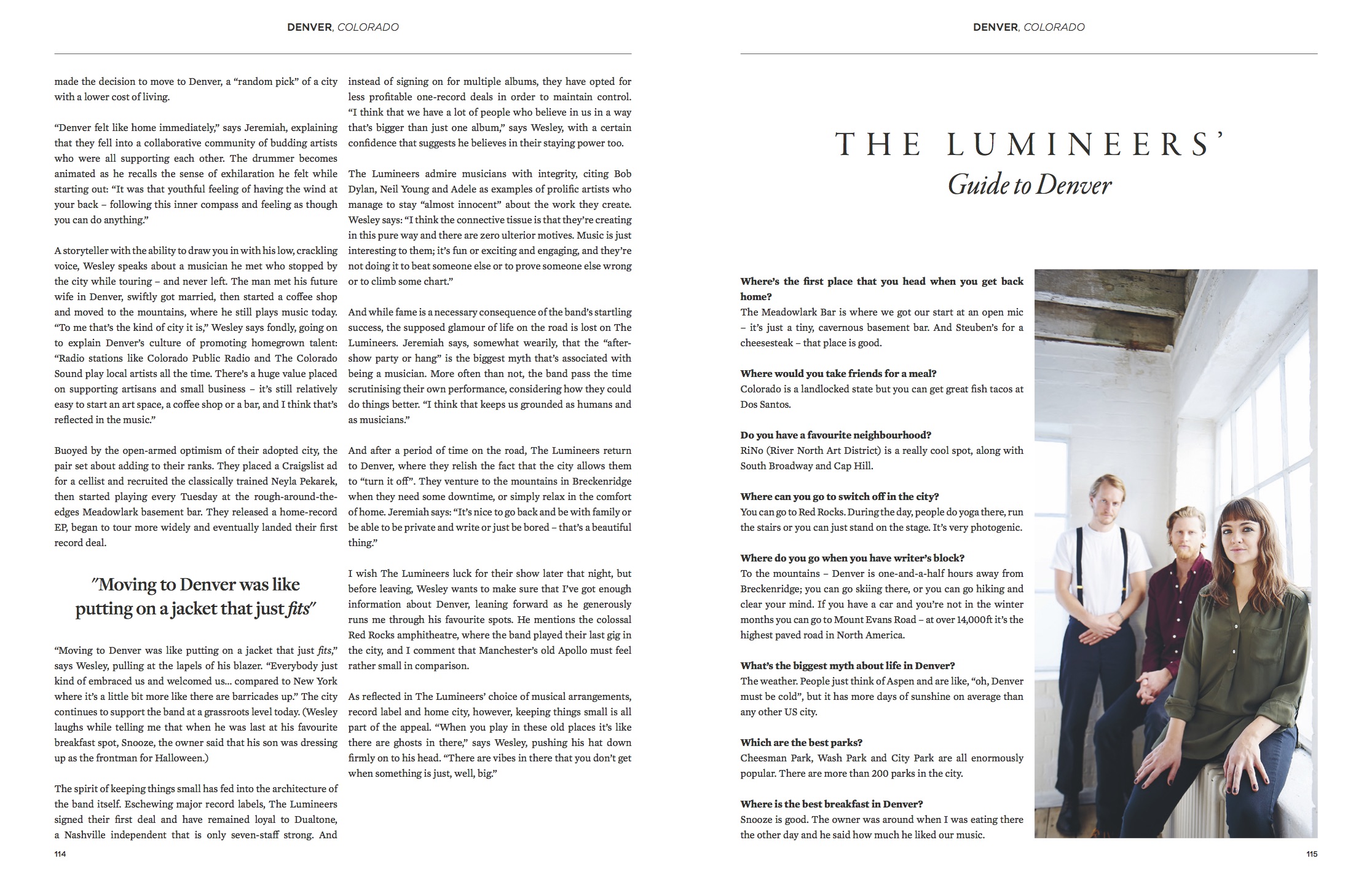 Read words below or at SUITCASE Magazine here
Four songs into a sold-out show, the frontman of The Lumineers makes a deal with the crowd. "Take as many photographs and videos as you like during this next song," Wesley Schultz says to Manchester's O2 Apollo, "but after that put your phones away. I want you to be present." The Denver-based fivepiece launches into a rendition of Ho Hey, the foot-stamping, tambourine-shaking folk-rock tune that triggered the band's meteoric rise to fame in 2012. They get the hit track out of the way early, as if to prove that this is no one-trick band, and for the rest of the show my phone remains out of sight and out of mind.
Ho Hey was the lead single on the Lumineers' eponymous first album, which sold over 1.7million copies and led to two Grammy nominations, as well as a slot on President Obama's Spotify playlist. This level of success was almost impossible to predict for a band that had cut their teeth on Denver's local open-mic scene after relocating from New York. Four years on from their first release, The Lumineers are now touring their second album, Cleopatra, and the decision to play their ace-of-spades track so early on in their set speaks volumes about the confidence of their musical progression.
"We're not trying to stick around in some 16-year-old's relevance," says Wesley backstage before the gig. "You can't just keep churning out the thing that you think made people like you." Suffering from jetlag after flying in from Denver, he appears worn but immaculately turned out – dressed in a blue, buttondown shirt, with a Harris Tweed jacket and trilby hat. "We've been likening ourselves to the Harry Potter books, in the sense that as you read the series the audience grows with them." The singer's sentence is finished by his co-founding band member and percussionist Jeremiah Fraites, who also sports a trilby along with his signature black braces: "The production of the movies gets better too. It's akin to that we hope – you know, getting more mature."
While the band's first album prioritised catchy melodies over lyrics, storytelling is at the heart of Cleopatra, and the record reached number one around the world when it dropped in April earlier this year. Lead track Ophelia, referencing the Shakespeare play in which the heroine drowns in a river, documents the "strange flood of attention" that the band experienced after a lifetime of being "pretty obscure" and "anonymous". In the album's title track, Cleopatra, Wesley assumes the first-person point of view of the Egyptian queen in an effort to empathise with the female narrative. ("It shouldn't surprise people that women make for interesting characters.") And in A Long Way From Home, the singer tells of his personal struggle with losing his father to cancer – on top of the bare bones of an acoustic guitar, a true sense of anguish is palpable in his rasping voice.
"It's both a gift and curse that when I go through hard things I tend to look at them as fodder for art," says the lyricist, thoughtfully, in what could be an unspoken nod to the band's foundation in grief. Wesley and Jeremiah began making music together after Jeremiah's brother, who was also Wesley's best friend, died of a drug overdose at the age of 19. "I think that it's a way to channel all that energy – good or bad – into something that can be really positive for you and that connects with other people."
It's both a gift and curse that when I go through hard things I tend to look at them as fodder for art
The band-members are clearly very close, referring to each other as Wes and Jer, and taking turns to answer questions in a laidback, brotherly rhythm. Jeremiah explains that the pair, who have been making music together since 2005, wrote the new album from a rented house in Denver over an intense period of six months. They kitted the place out with Wesley's guitars, some drums that were "hardly ever used" and a "piece-of-shit upright piano" that Jeremiah's tuner referred to as "firewood". He says: "It was really underwhelming and basic, and I think Wes and I thrive in that kind of environment."
The duo favour fuss-free arrangements on stage as well (their Cleopatra set includes a fully acoustic rendition of Darlene – without amps or even microphones). And it was on Denver's unassuming open-mic circuit that the The Lumineers got their big break. Both New Jersey natives, Wesley and Jeremiah initially tried to make it in New York, but struggled to move up the ladder, while also struggling to pay the rent. In 2009, they made the decision to move to Denver, a "random pick" of a city with a lower cost of living.
"Denver felt like home immediately," says Jeremiah, explaining that they fell into a collaborative community of budding artists who were all supporting each other. The drummer becomes animated as he recalls the sense of exhilaration he felt while starting out: "It was that youthful feeling of having the wind at your back – following this inner compass and feeling as though you can do anything."
A storyteller with the ability to draw you in with his low, crackling voice, Wesley speaks about a musician he met who stopped by the city while touring – and never left. The man met his future wife in Denver, swiftly got married, then started a coffee shop and moved to the mountains, where he still plays music today. "To me that's the kind of city it is," Wesley says fondly, going on to explain Denver's culture of promoting homegrown talent: "Radio stations like Colorado Public Radio and The Colorado Sound play local artists all the time. There's a huge value placed on supporting artisans and small business – it's still relatively easy to start an art space, a coffee shop or a bar, and I think that's reflected in the music."
Buoyed by the open-armed optimism of their adopted city, the pair set about adding to their ranks. They placed a Craigslist ad for a cellist and recruited the classically trained Neyla Pekarek, then started playing every Tuesday at the rough-around-theedges Meadowlark basement bar. They released a home-record EP, began to tour more widely and eventually landed their first record deal.
"Moving to Denver was like putting on a jacket that just fits," says Wesley, pulling at the lapels of his blazer. "Everybody just kind of embraced us and welcomed us… compared to New York where it's a little bit more like there are barricades up." The city continues to support the band at a grassroots level today. (Wesley laughs while telling me that when he was last at his favourite breakfast spot, Snooze, the owner said that his son was dressing up as the frontman for Halloween.)
The spirit of keeping things small has fed into the architecture of the band itself. Eschewing major record labels, The Lumineers signed their first deal and have remained loyal to Dualtone, a Nashville independent that is only seven-staff strong. And instead of signing on for multiple albums, they have opted for less profitable one-record deals in order to maintain control. "I think that we have a lot of people who believe in us in a way that's bigger than just one album," says Wesley, with a certain confidence that suggests he believes in their staying power too.
The Lumineers admire musicians with integrity, citing Bob Dylan, Neil Young and Adele as examples of prolific artists who manage to stay "almost innocent" about the work they create. Wesley says: "I think the connective tissue is that they're creating in this pure way and there are zero ulterior motives. Music is just interesting to them; it's fun or exciting and engaging, and they're not doing it to beat someone else or to prove someone else wrong or to climb some chart."
And while fame is a necessary consequence of the band's startling success, the supposed glamour of life on the road is lost on The Lumineers. Jeremiah says, somewhat wearily, that the "aftershow party or hang" is the biggest myth that's associated with being a musician. More often than not, the band pass the time scrutinising their own performance, considering how they could do things better. "I think that keeps us grounded as humans and as musicians."
And after a period of time on the road, The Lumineers return to Denver, where they relish the fact that the city allows them to "turn it off". They venture to the mountains in Breckenridge when they need some downtime, or simply relax in the comfort of home. Jeremiah says: "It's nice to go back and be with family or be able to be private and write or just be bored – that's a beautiful thing."
I wish The Lumineers luck for their show later that night, but before leaving, Wesley wants to make sure that I've got enough information about Denver, leaning forward as he generously runs me through his favourite spots. He mentions the colossal Red Rocks amphitheatre, where the band played their last gig in the city, and I comment that Manchester's old Apollo must feel rather small in comparison.
As reflected in The Lumineers' choice of musical arrangements, record label and home city, however, keeping things small is all part of the appeal. "When you play in these old places it's like there are ghosts in there," says Wesley, pushing his hat down firmly on to his head. "There are vibes in there that you don't get when something is just, well, big."