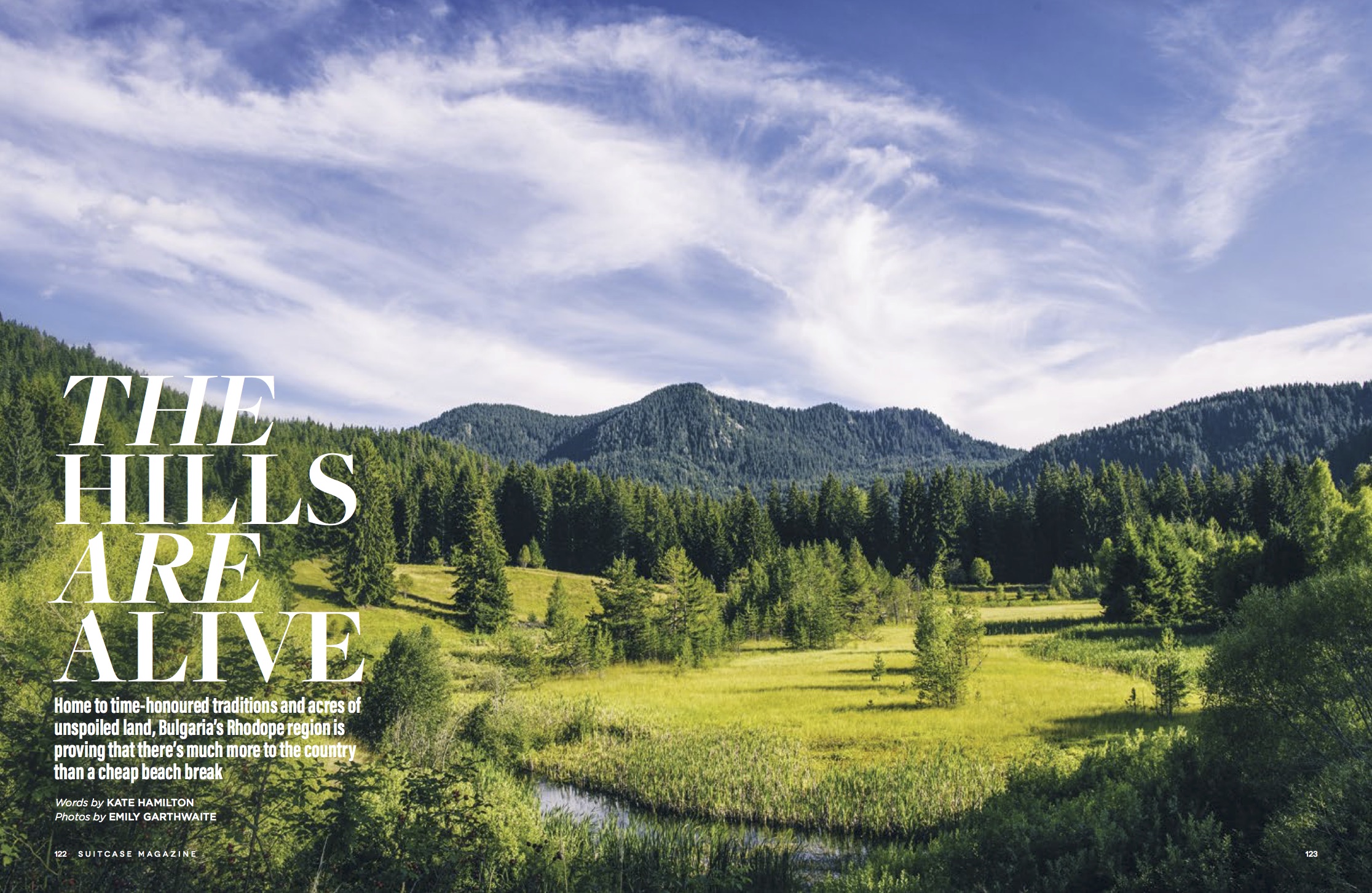 Read words below or at SUITCASE Magazine here
Now this is a performance. With my hands tucked behind my back and a set of Bulgarian bagpipes tearing throatily through the air, my feet move at incongruous angles in a traditional kind of jig. Ivan (83) and his 80-year-old wife Dimka are familiar with the steps and show me the way. I was told to expect pre-dinner entertainment, but I hadn't anticipated playing a lead role.
This is Gela, a remote hamlet in Bulgaria's Rhodope mountains and the fabled birthplace of Orpheus, the ancient Greek hero endowed with superhuman musical skills.
While Orpheus is unlikely to have been impressed by my subhuman dance effort, it is nonetheless music that sparked my interest in his native country. A friend had recently returned from a Rhodope-based festival called Meadows in the Mountains, where she'd spent the weekend lodging in a local home. Listening to her talk about the charm of the Bulgarian countryside and people, I became excited at the thought of travelling to a place about which I knew next to nothing, and so made the decision to explore the land of Orpheus for myself.
Not everyone is so easily convinced. Over the years Bulgaria has garnered an unfortunate reputation for cheap holiday resorts. The capital city Sofia is a popular spot for stag dos and hen parties, while Sunny Beach on the Black Sea coast has overtaken Magaluf and Kavos as the destination of choice for Brits in search of booze. This kind of tourism has done little for the county's wider image, and a lot to dissuade more mindful travellers from paying a visit.
It is short-sighted, however, to tar the whole country with the same brush, and there are authentic pockets of Bulgaria where travellers can explore the country's deep-rooted folk traditions while having acres of unspoiled land to themselves to explore.
Gela, for example, is far removed from the culture of foam parties and bar crawls both in distance and demographics. Located 150 miles south of Sofia and 250 miles west of Sunny Beach, the hamlet has a population of 37 and an average age of 70 thanks to young people leaving to seek their fortunes in the cities. The beating heart of the village is Villa Gela, a six-bedroom retreat that advocates simple rather than seedy pleasures. With rooms that start at just £100 per night, the boutique offers affordable luxury in a culturally rich land that is too often overlooked.
It's the alpine air that'll get you first. My photographer-friend Emily and I arrive at Gela from Sofia one inky night in early September, and inhale in greedy gulps as soon as we step out of the car.
In fact the area's clean air is at the root of the villa's raison d'être. Owners Ivan and Dimka moved to the mountains from the city after Ivan's asthma became unbearable in his retirement. Their son Alexander was adamant that the beauty of their new home should be shared with friends and family, and so the couple opened up the villa to the public in 2003.
Today the retreat is managed by Ivan and Dimka's niece Darina, who works tirelessly to create bespoke experiences for guests, including herbal baths, deep-tissue massages and private helicopter rides. Wearing a navy floral dress, black court shoes and a lilac box jacket, Darina greets us with a pair of cosy slippers followed by a round of pitka bread, an important part of a traditional Bulgarian welcome. We take a seat in the dining room and demolish it piece by pillowy piece.
In the light of day the villa comes into its own. Each of the six bedrooms has a different design – one with a magnificent four-poster, one with a striped wooden floor and another with a hot tub and a private terrace. All have open replaces and come stashed with rose-infused toiletries – the Valley of Roses in central Bulgaria yields 70 tonnes of rose petals every year, and the country's damascena rose essential oil is recognised as the nest in the world.
With furniture fashioned from old beams, the main living area has a distinctive chalet feel – it's only half an hour from the country's second biggest ski resort – and leads out on to an enormous decking area that faces the pine-clad mountains. It's the kind of place where a writer would come to finish a novel. Or where a celebrity would come to seek solace – Emma Thompson and Alex James have both taken breaks here.
Breakfast, and (as I would discover) every meal is about letting local produce sing. That morning we eat creamy mounds of yoghurt made fresh from unpasteurised milk alongside rose-petal compote. Everybody grows and consumes their own crops here, and Dimka's garden is practically over owing with vegetables and legumes, including carrots, beetroot and broad beans. Throughout the week she presents us with kofte meatballs, peppers stuffed with ground beef and mountain trout served with just a drizzle of lemon juice and olive oil. But my personal favourite is the shopska salad, a dish made with tomatoes, cucumber and shredded cheese to mimic the tricolour Bulgarian flag.
After eating our fill, Emily and I set out with Darina to explore by foot. There are a number of hiking paths that lead directly from the villa, including a five-hour round trip to summit Orpheus's Peak. We opt to keep things local (and light on the legs), heading instead to the Saint Iliya (Elijah) church atop a nearby hill. En route we pass two of Gela's elderly residents – a herbalist on the hunt for juniper berries and a shepherd in pursuit of his flock. The gentle sound of cattle bells clinking in the distance gives the valley the feel of Switzerland in the summertime.
Even if you're not the kind of person that usually gets excited about churches, something about Saint Iliya allows you to dream. With swirling incense, floor-to-ceiling iconography and gold stars that glint in the candlelight, the tiny chapel is straight out of the pages of an illustrated children's bible. Darina explains that Orthodox Christianity is the dominant religion across the country, and that many churches feature ornate domes, brightly coloured frescoes and intricate mosaics. The murals at the nearby Bachkovo Monastery combine pagan icons with religious figures (think the 12 apostles alongside Socrates and Plato), while in Plovdiv, Bulgaria's second city, colourful biblical scenes animate the Church of Saints Constantine and Helen.
Located just one-and-a-half hours from Gela, Plovdiv is a key player in the development of cultural tourism in Bulgaria, and so we decide to visit that afternoon. The city is thought to date back to 6000 BC – which would make it Europe's oldest inhabited city – and has been named European Capital of Culture for 2019.
Present-day Plovdiv is built on layers of former settlements, and I move in a matter of minutes between Thracian ruins, a Roman theatre and roughly cobbled streets lined with colourful, ornamented houses typical of the Bulgarian National Revival Period that spanned most of the 19th century. The whole place feels like an open-air museum, and in the face of so many folds of history I can't help but feel that I am part of just one, very temporary exhibit.
We stop for lunch at Hebros, a hotel and restaurant housed in a 200-year-old building, and sip vegetable borscht on a sun-flushed terrace littered with grapevines and squashed figs. Afterwards we rummage through an antique shop selling Soviet relics: black- and-white photographs, Russian cameras and pocket watches that long ago stopped telling time. I leave with an eccentric woolly jumper, having been confused by the shopkeeper's seemingly back-to-front mannerisms (Bulgarians nod to say "no" and shake their heads for "yes").
Darina explains that the history of Bulgaria is one of invasion and conquest, and a number of civilisations have left indelible marks on the country's cities. The first settlers were prehistoric people, and in the fourth and fifth centuries BC Bulgaria became known as Thrace. The land was later settled by Greeks, Romans, Byzantines and Ottomans before spending four decades under Soviet rule. This most recent period of occupation left the county in the shadows as far as the western world was concerned. However, Bulgaria began to open up at the end of the 20th century, becoming a member of Nato in 2004 and joining the EU in 2007. Darina says with uncharacteristic force: "We now have nothing to do with Russia."
Despite a tumultuous past, Bulgaria has maintained a strong sense of identity. It doesn't feel like the kind of place that keeps stock of the latest food fads or hotel trends. And while we often travel in pursuit of a city's newest, shiniest assets – the hottest hotel opening, the coolest speakeasy in town – it feels refreshing to visit somewhere like Plovdiv, which is developing at its own pace and so proudly displaying its past.
In the Rhodope region especially there is a profound appreciation for traditions. The country's most famous folkloric figure is Valya Balkanska, a singer whose recording of the ballad Izlel e Delyo Haidutin was selected for inclusion on the Voyager spacecraft, which launched in 1977. Valya happens to be playing a charity concert in Plovdiv that evening, and so we arrange to meet her.
Valya smiles with her eyes while she sits beside her bagpiping musical partner of over 20 years, Peter Yanev. She explains that folk music is tied up with the very spirit of Bulgaria, which has endured centuries of cultural and political oppression. Peter adds: "Music has helped us to survive." Today folk cultures remain an important part of domestic education. Peter, who has founded a local bagpipe festival, claims that one-third of the boys born in the area learn to play the instrument, while the duo tour and promote traditional music to the wider world.
The culture of the Rhodope region is rich and chequered, but nature is a big draw here too. The next morning we pass potato farmers tilling the fields with a horse and plough on the journey to the Devil's Throat, the subterranean cave from which Orpheus is said to have descended into Hades to recover his beloved wife Eurydice. Thunderous waterfalls crash into the bowels of the earth; both the noise and scent of damp are deafening.
For an up-close view of the mountains, though, you need an engine – and an expert. At a local hotel and stable complex called Arkan – where there's a stream babbling in front of colourful beehives and a wagon puffing smoke – we meet George, a hunter wearing leathers and a black T-shirt depicting pin-up girls, with a cigarette dangling from his mouth.
Bumping along vertiginous roads in the back of George's Land Rover, the hunter (of boar and deer) breaks up facts about the mountains ("the area was closed during Communist times because of its proximity to Greece") with the offer of a drink.The rumoured birthplace of the Greek god of wine Dionysus, Bulgaria has been producing the stuff since Thracian times, and a number of the country's native wineries have received international acclaim. George's brew is not going to win any prizes, sadly. The plastic bottle fizzes as I crack open the lid. I hand it back as politely as possible.
We corkscrew through a Christmas-tree forest, whistling past blackberry bushes and cool, deep lakes that depict reflections of the honeycombed hills overhead. The shadowy trees that line the slopes are evergreen, while the silver birches closer to the earth cling to the last spell of summer.
Arriving at a small shepherd's settlement, we run into a gobbling troupe of turkeys and a handsome hunting dog called Barrie. Leaping out of the Land Rover we set out on foot through an uncut meadow spangled with wild flowers and herbs. The scent of mint rises from thick tufts of grass as we trudge past lupins, geraniums and thistle. Bees drone and crickets thrum, but apart from the insects there is no other sound.
Walking further into the thicket it suddenly seems strange to me that people know so little of the real Bulgaria, when this part of the country wears its heart so proudly on its sleeve. There's nothing ash or fancy here, but in this age that sees us fork out for local produce, spring water and precious silence, it feels like a luxury to visit a place where the things that nurture and sustain us are still so pure, so simple and so free.
On top of such raw natural beauty there's an intuitive respect for tradition here that pulses from Plovdiv, Gela and the Rhodope mountains through a rich culinary heritage and a thriving folk scene. A world away from busy beaches and crowded resorts, in Bulgaria, nature doesn't need to be championed as part of a green wave in marketing, because it's already a living part of tradition. And traditions don't need to be revived or recalled – because they are already second nature.
The next morning we leave in the blue light of daybreak, having spent our final night dancing around Villa Gela to the beat of bagpipes. It's an experience that could have felt gimmicky anywhere else, but here feels like the most natural thing in the world. Too early still for the birds and the insects, it's so quiet that you could hear a pin drop, perhaps even a pine needle fall.