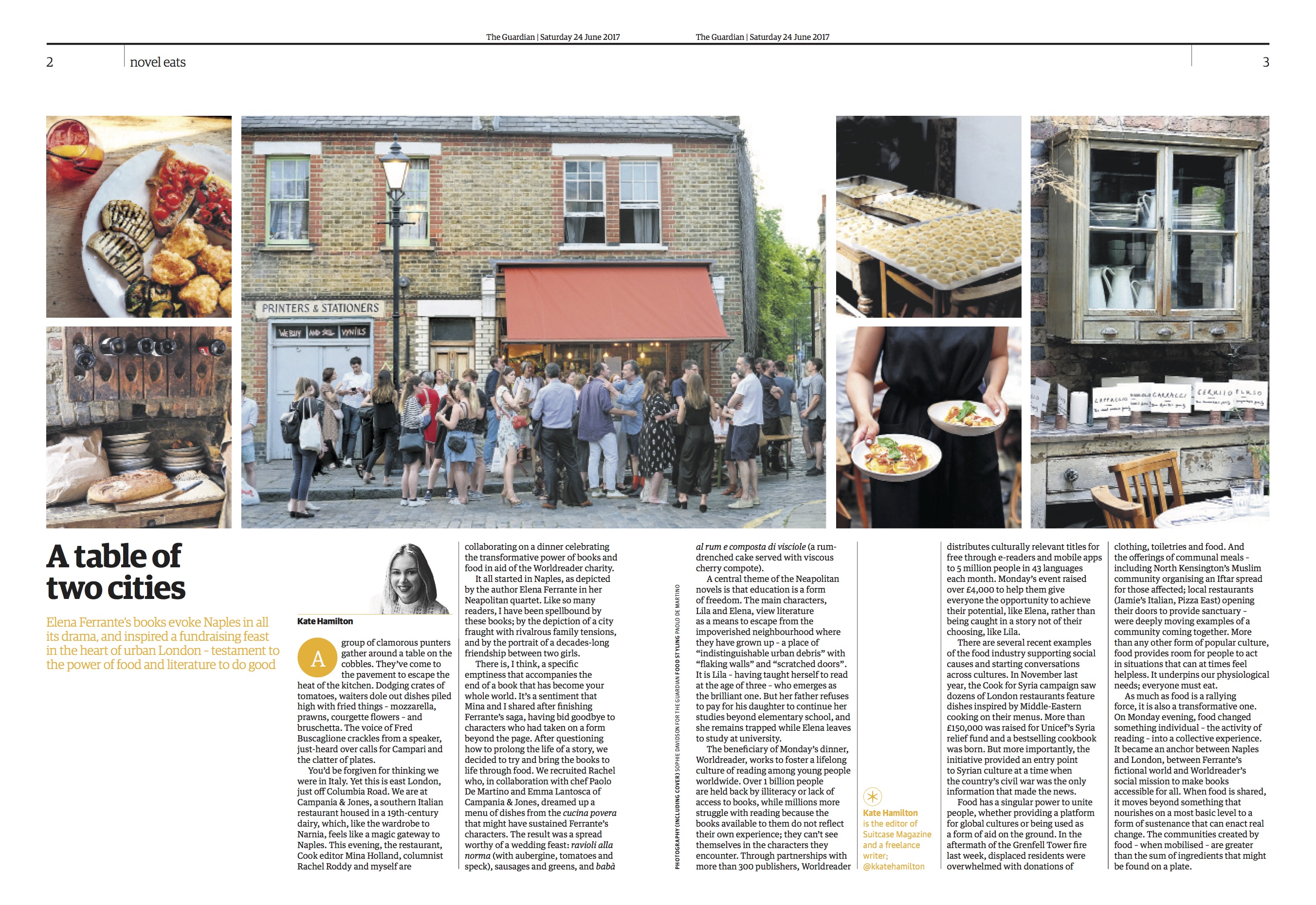 Read article below or at The Guardian here
A group of clamorous punters gather around a table on the cobbles. They've come to the pavement to escape the heat of the kitchen. Dodging crates of tomatoes, waiters dole out dishes piled high with fried things – mozzarella, prawns, courgette flowers – and bruschetta. The voice of Fred Buscaglione crackles from a speaker, just-heard over calls for Campari and the clatter of plates.
You'd be forgiven for thinking we were in Italy. Yet this is east London, just off Columbia Road. We are at Campania & Jones, a southern Italian restaurant housed in a 19th-century dairy, which, like the wardrobe to Narnia, feels like a magic gateway to Naples. This evening, the restaurant, Cook editor Mina Holland, columnist Rachel Roddy and myself are collaborating on a dinner (see gallery) celebrating the transformative power of books and food in aid of the Worldreader charity.
It all started in Naples, as depicted by the author Elena Ferrante in her Neapolitan quartet. Like so many readers, I have been spellbound by these books; by the depiction of a city fraught with rivalrous family tensions, and by the portrait of a decades-long friendship between two girls.
There is, I think, a specific emptiness that accompanies the end of a book that has become your whole world. It's a sentiment that Mina and I shared after finishing Ferrante's saga, having bid goodbye to characters who had taken on a form beyond the page. After questioning how to prolong the life of a story, we decided to try and bring the books to life through food. We recruited Rachel who, in collaboration with chef Paolo De Martino and Emma Lantosca of Campania & Jones, dreamed up a menu of dishes from the cucina povera that might have sustained Ferrante's characters. The result was a spread worthy of a wedding feast: ravioli alla norma (with aubergine, tomatoes and speck), sausages and greens, and babà al rum e composta di visciole (a rum-drenched cake served with viscous cherry compote).
A central theme of the Neapolitan novels is that education is a form of freedom. The main characters, Lila and Elena, view literature as a means to escape from the impoverished neighbourhood where they have grown up – a place of "indistinguishable urban debris" with "flaking walls" and "scratched doors". It is Lila – having taught herself to read at the age of three – who emerges as the brilliant one. But her father refuses to pay for his daughter to continue her studies beyond elementary school, and she remains trapped while Elena leaves to study at university.
The beneficiary of Monday's dinner, Worldreader, works to foster a lifelong culture of reading among young people worldwide. Over 1 billion people are held back by illiteracy or lack of access to books, while millions more struggle with reading because the books available to them do not reflect their own experience; they can't see themselves in the characters they encounter. Through partnerships with more than 300 publishers, Worldreader distributes culturally relevant titles for free through e-readers and mobile apps to 5 million people in 43 languages each month. Monday's event raised over £4,000 to help them give everyone the opportunity to achieve their potential, like Elena, rather than being caught in a story not of their choosing, like Lila.
There are several recent examples of the food industry supporting social causes and starting conversations across cultures. In November last year, the Cook for Syria campaign saw dozens of London restaurants feature dishes inspired by Middle-Eastern cooking on their menus. More than £150,000 was raised for Unicef's Syria relief fund and a bestselling cookbook was born. But more importantly, the initiative provided an entry point to Syrian culture at a time when the country's civil war was the only information that made the news.
Food has a singular power to unite people, whether providing a platform for global cultures or being used as a form of aid on the ground. In the aftermath of the Grenfell Tower fire, displaced residents were overwhelmed with donations of clothing, toiletries and food. And the offerings of communal meals – including North Kensington's Muslim community organising an Iftar spread for those affected; local restaurants (Jamie's Italian, Pizza East) opening their doors to provide sanctuary – were deeply moving examples of a community coming together. More than any other form of popular culture, food provides room for people to act in situations that can at times feel helpless. It underpins our physiological needs; it is a human common denominator. everyone must eat.
As much as food is a rallying force, it is also a transformative one. On Monday evening, food changed something individual – the activity of reading – into a collective experience. It became an anchor between Naples and London, between Ferrante's fictional world and Worldreader's social mission to make books accessible for all. When food is shared, it moves beyond something that nourishes on a most basic level to a form of sustenance that can enact real change. The communities created by food – when mobilised – are greater than the sum of ingredients that might be found on a plate.