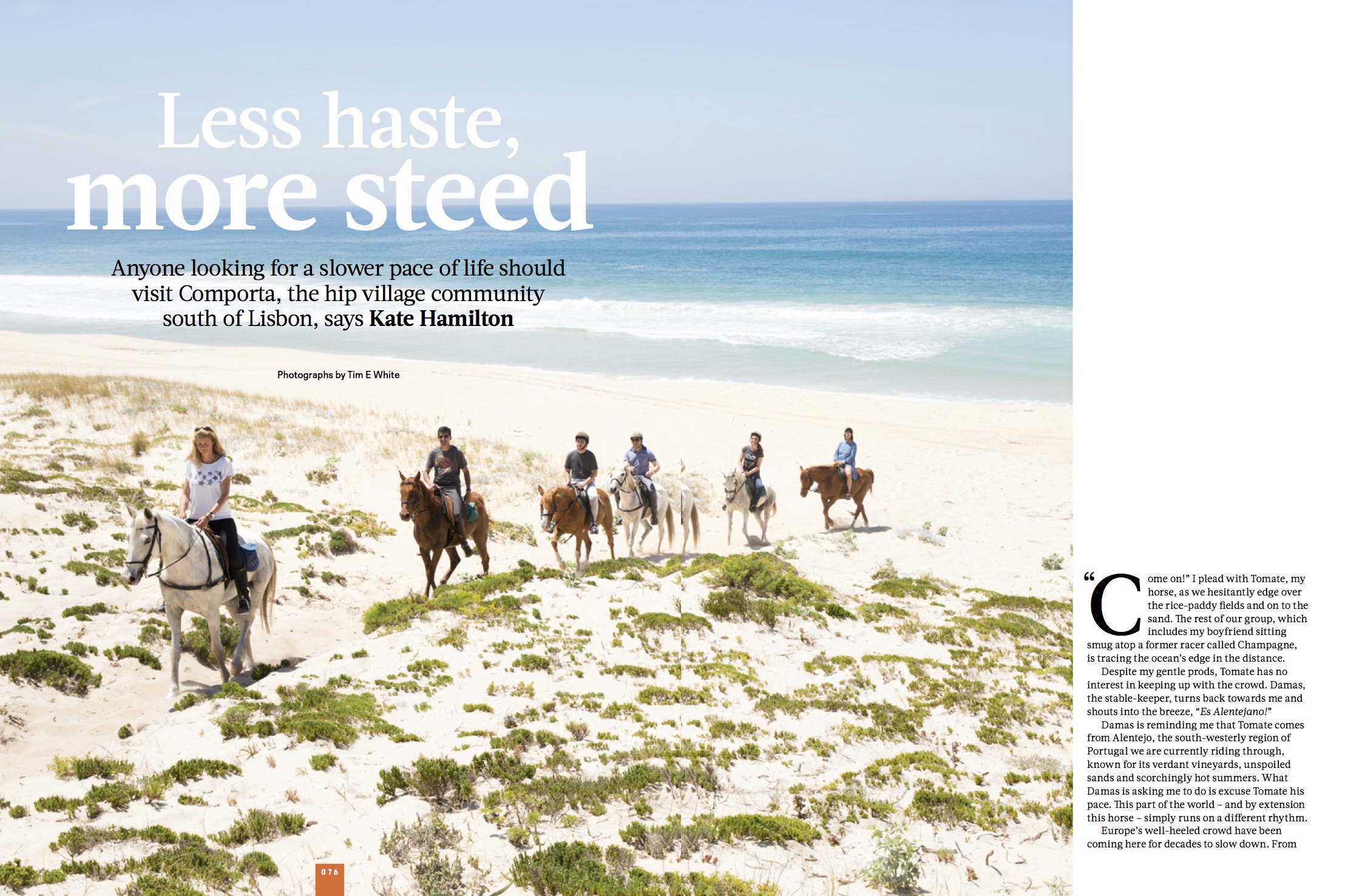 Read words below or at Easyjet here
Come on!" I plead with Tomate, my horse, as we hesitantly edge over the rice-paddy fields and on to the sand. The rest of our group, which includes my boyfriend sitting smug atop a former racer called Champagne, is tracing the ocean's edge in the distance.
Despite my gentle prods, Tomate has no interest in keeping up with the crowd. Damas, the stable-keeper, turns back towards me and shouts into the breeze, "Es Alentejano!" Damas is reminding me that Tomate comes from Alentejo, the south-westerly region of Portugal we are currently riding through, known for its verdant vineyards, unspoiled sands and scorchingly hot summers. What Damas is asking me to do is excuse Tomate his pace. This part of the world – and by extension this horse – simply runs on a different rhythm.
Europe's well-heeled crowd have been coming here for decades to slow down. From Easter until September, affluent Lisbonites and Parisians descend upon the Herdade da Comporta, a series of seven hamlets dotted along a silky swathe of Alentejo coast. It's exclusive – the shoe designer Christian Louboutin has a house here, as does the artist Anselm Kiefer and the architect Philippe Starck – but has become more accessible to tourists in the past three years, thanks to the opening of the area's first hotel. Is Comporta about to pick up the pace?
We arrive from Lisbon – via a drive and a ferry ride that glides alongside dolphins – and find the hotel Sublime Comporta tucked at the end of a path, behind peach-coloured gates and a wall of wildflowers. That afternoon, we pootle around the hushed grounds on bicycles to get our bearings. There's a yoga pavilion, infinity pool and a newly planted vegetable patch. Based on the traditional cabana style, with two bedrooms linked by a communal living room, our villa has blue-and-white Danish linen, concrete walls and a pool shaded by umbrella pines and cork trees.
Sublime is currently the only hotel in Comporta and looks set to be for some time (a project to open an Aman Resort was foiled last year when Banco Espírito Santo – Portugal's largest banking dynasty, which owns and manages the entire coastal estate of Comporta – went bankrupt). Sublime's owner, Gonçalo Pessoa, who is also a full-time pilot, first intended to build a holiday home when he bought his land in 2004, but ended up opening a hotel 10 years later. Fittingly, Sublime channels an extended family feel – the kitchen is open, the restaurant is hung with myriad straw lampshades and there's a terrace for socialising long past sunset. Over dinner, Pessoa explains that Comporta has kept its laid-back spirit despite a steep increase in tourism to Alentejo: "Almost nothing has changed since I first visited. People come here for the same reason they have always come."
That reason, according to Pessoa and almost everyone I speak to over the course of my few days' stay, is nature. It's the rice paddies that grab me the next morning. Comporta's backwaters are a patchwork of shallow pools flecked with shoots of green, still except for the odd stork paddling around on spindly legs in search of minnows. When the sun is high, the fields reflect the sky overhead and the rice seems to grow in the clouds. And then there are the beaches. Comporta law forbids residents from building within 1km of the shoreline, which means you have the land all to yourself. We walk alone along Praia do Pego, between crashing waves and sand dunes punctuated with delicate succulents and sea daisies.
With sand still in our shoes, we make our way to a restaurant called Sal – the most upscale spot in town. Not that you'd know it, mind. Patrons arrive dressed in windbreakers and Havaianas, and pile onto the blustery terrace for simple lunches of grilled fish served with just a squeeze of lemon and a drizzle of olive oil. Everything is as fresh and salty and real as the sea itself. Our waiter, Pedro, grew up in Comporta and expertly fillets our sole. He picks out two sacs of roe from the fish (there is usually just the one) and cries out as he plops the eggs on our plate: "This is so, so rare – I can't believe it!" Even for someone who has spent a lifetime here, nature still has plenty of surprises in store.
We too are stopped in our tracks on the way back from the beach at the sight of piles of antiques laid out on folding tables at the side of the road. The makeshift shop is run by a former farmer called Senhor Julio who, having lost the use of one of his arms, turned to selling shabby-chic bric-a-brac from old farmhouses to Comporta's summertime visitors. We spend hours sifting through fish-eye mirrors, ceramic bowls and miniature milk pails. When we leave, the daylight is dimming.
The pillars of the Comporta experience are simple and few. Sleeping. Reading. Eating. At Carvalhal Beach the next day, we step into Dinis – a restaurant for local fishermen – and get talking to a French woman who owns a holiday home nearby. "I'm not here for nightlife," she says, "and not for quaint villages and little churches." This place isn't St Tropez – the socialising takes place behind closed doors, rather than in flamboyant bars or on the backs of yachts. The elite come to Comporta to take refuge, not to see and be seen.
That's not to say they've left no footprints. Later that afternoon, we drive to Comporta village, a cluster of whitewashed houses with terracotta-tiled roofs, clucking chickens and elderly Portuguese men watching the world go by. We also find a smattering of design shops (opening times are luck of the draw), which sell floaty kaftans, espadrilles and gleaming ceramics. There's Minimercado Gomes, a corner shop with the nickname 'little Harrods', thanks to its treasure trove of luxury goods. Owned by Senhor Carlos Gomes, this 100-year-old store has responded to customer requests for items, including pink Himalayan salt, Sipsmith Gin, Fever Tree Tonic Water and partridge pies. All are stocked alongside local wines, cheeses and olive oil.
"Tourism here is peaceful and restful," insists Gomes earnestly. And a little bit luxurious, I'd add.
Essentially, Gomes is right – the spirit of Comporta encourages you to amble along at the pace of my old friend Tomate. It's about taking the time to appreciate the details, like finding a fish full of roe, a paddy field full of storks or even a beautiful beach all to yourself.
On my last morning, I make a detour to the port at Carrasqueira before joining the highway back to Lisbon. It's low tide and whisper quiet except for Pink Floyd's The Wall crackling over an analogue radio. I realise this is the only music I've heard all weekend. One fisherman, Carlo, is already back for the day at 11am. "Foi um bom dia," (It was a good day), he says, breaking into a gummy grin as he pulls plump squid specimens from his nets. They're tangled up, but Carlo has got time to unravel them. Slowly does it.