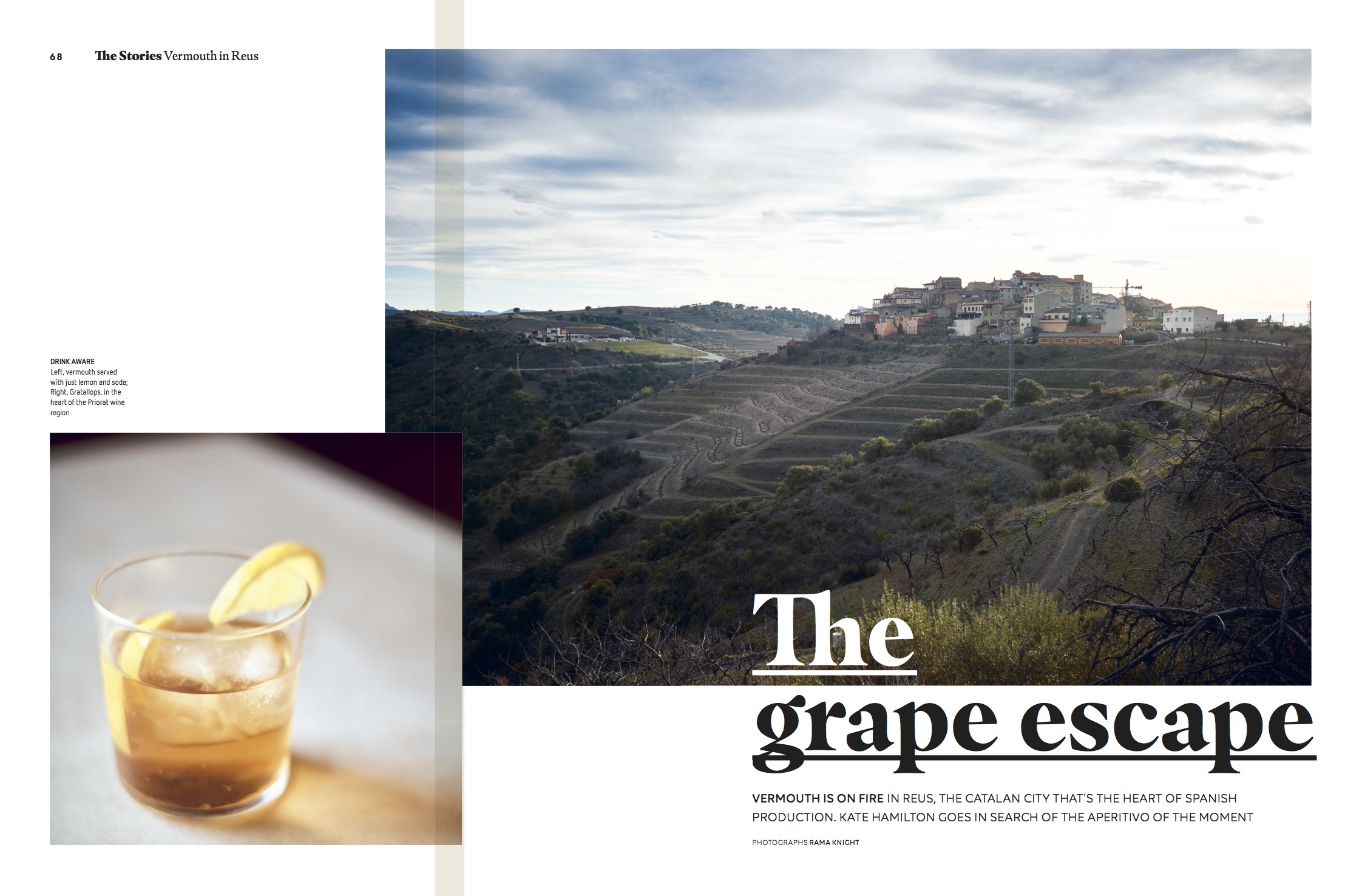 Read full article below or at Easyjet here
I can't tell you that!" says August, his eyes widening in disbelief. "Nobody gives away their secrets." I'm being scolded beside a vineyard just outside the Catalan city of Reus. It serves me right, really – I should know better than to ask a producer what goes into a bottle of vermouth. "It's white wine, alcohol and a blend of 120 botanicals." Like a chef protecting a prized recipe, August keeps the details to himself.
Vermouth is back in a big way across Spain, even if it does remain shrouded in mystery. In its 19th- and 20th-century heyday, the aperitivo (pre-dinner drink) was an important touchstone of national culture and the very bloodstream of the production city of Reus, some 100km down the coast from Barcelona. In the 1970s, interest in the mellow, herbal spirit slowly gave way to a preference for beer and wine. During the past few years, however, vermouth has boomed. In Barcelona and Madrid today, you'll find young people swapping gin and tonics for crafted concoctions featuring this fortified wine.
I've decided to bypass the buzzy showmanship of Barcelona's new breed of vermuterias and instead make for Reus, the understated heartland of Spanish vermouth. Here, I hope to get to the bottom of its history, via the bottom of a few bottles.
It's the architecture that grabs me first. I arrive in Reus on a Saturday afternoon – siesta time – and have Plaça del Mercadal all to myself. The square is framed by lacework balconies, colourful façades and intricate stonework columns, as well as Catalan flags and banners advocating independence. The modernist master Antoni Gaudí – the creator of Barcelona's Sagrada Família cathedral – was born in Reus and there's a sense of his quirky, ostentatious style along the jumbled streets that inspired him.
As Reus yawns awake (sometimes 'sleepy' is a good thing for a town to be), I make my way to the Museu del Vermut, which, pleasingly, turns out also to be a bar. Over the past three years it's made itself home to one the world's largest collections of antique vermouth bottles – an assemblage of darkly mysterious liquors with fading labels that would put your granny's drinks cabinet to shame. Young patrons shoot the breeze in a warm courtyard full of quirky vintage signs, though I sit at the bar, where the tawny liquid is presented over ice with a twist of orange and an olive skewered on a cocktail stick. A waiter tells me there's soda at hand should I need to calm it down. I find it perilously easy to drink.
The bittersweet flavours of vermouth are meant to 'open the appetite'. This I find to be true, and so, with my taste buds tingling, I wander over to Restaurant Vermuts Rofes. What was once a vermouth factory and cellar is now a bar stashed with red and green bottles that beam like traffic lights. You can also get the stuff on tap (a mere €2.60 for a glass of the house blend) and eat simple yet delicious things like mushroom ravioli, plump mussels and skirt steak. Salvador Rofes, the fourth-generation owner, who is smartly dressed and irrepressibly smiley, sits with me after dinner. "We really identify ourselves by vermouth," he says. "Not just me as the son of a producer, but the whole city."
Understandably, the people of Reus are precious when it comes to their most prized liquid asset. However, vermouth's revival has brought about a relaxation of the rules. Once upon a time, I would have been chastised for drinking it on a Saturday night because, strictly speaking, the ritual of fer el vermut (literally 'doing vermouth') is reserved for Sunday afternoons; for punctuating those lazy hours after mass and before lunch. Things are more flexible today – one woman tells me simply to drink "whenever I want" – but that Sunday lull still retains an air of sanctity. Nowhere more so than the nearby city of Tarragona, where the squares come alive with social drinkers.
A 15-minute drive from Reus, Tarragona has the kind of history that you can walk through. The city was built by the Romans in 280 BC and its original travertine walls still enclose much of the centre. There's the gothic cathedral, an amphitheatre which once hosted gladiatorial fights to the death and old-world boutiques, like the colourful Casa Corderet candle shop. Open since 1756, it conceals a kaleidoscopic array of wax behind its rickety wooden shutters on Carrer de la Merceria.
Arriving on Sunday morning, I plant myself at Plaça del Fòrum and order vermouth at a corner bar called La Fresca Del Fòrum. Vermouth, thank god, is almost always served with snacks: either encurtidos (pickled things, like olives and gherkins) or salty things, like anchovies or cured meats. Adding a spritz of soda to my drink (it is only midday, after all), I pick through a tin of garlicky mixed olives while soaking up the crisp Mediterranean light. Around me, families walk happy dogs, huddles of men share newspapers, couples catch up. A local named Isabel tells me that, while in Barcelona bars have become "tiquismiquis" (fussy), vermouth is still a simple ritual here – there's not a craft cocktail in sight.
That afternoon, I take a scenic route – one that snakes along the craggy coast – and pass a string of barely touched beaches. Reus and Tarragona are both part of the Costa Dorada – Spain's 'Golden Coast' – so-called for its honey-hued sands and stonework. At La Móra, I bump into a few surfers and a swim club, made up of five sea-lovers sporting pink caps. Juan, the unofficial leader of the bunch, pings his goggles over his face and says, before diving in, "We're out here every day of the year, rain or shine." He too has his own set of rituals to abide by.
It's all very well ruminating in bars and on beaches, but to really understand vermouth, I'm told you need to get out into the land. Reus is encircled by wine country, home to vineyards planted on 'costers', handmade terraces of brittle slate that are designed to run down steep slopes. Driving out of the city, I watch as higgledy-piggledy buildings rearrange themselves into sculpted mountains and hills. I wish I could bottle the light and take it home with me.
Anyone in doubt about the sanctity of vermouth here need only visit the 'wine cathedral' in the village of Falset. This secular shrine – complete with towering church-like windows – was designed by César Martinell, a disciple of Gaudí. Today, it's the base for a cooperative of vermouth, wine and olive oil which is owned by 200 farmer-shareholders. Marzena, a local sommelier, explains how production is inspiring a back-to-basics mentality. "There's a big movement here towards going back to your roots," he says, "and eating and drinking locally, of course."
That afternoon, I stop for lunch and a dreamy crema Catalana at the chalet-style Hotel-Hostal Sport in Falset, before driving deeper into the hills and the Priorat region as the sunset arrives and streaks the sky with pink. DOQ Priorat is one of Spain's stand-out wine regions but, even here, I opt to begin dinner with a glass of vermouth from Reus. It opens my appetite, yes, but it awakens something else too: perhaps an appreciation for this place of rhythms and rituals, where the hours spent on a sunlit terrace waiting for vines to ripen are valuable and time-honoured recipes are kept close.
On my final morning, I journey back to Reus via the village of Gratallops. On a whisper-quiet backstreet, I come across Celler Cecilio, the oldest DOQ registered winery in Priorat. It's here that I meet August, who shows me around his family's cellar and then tells me off when I ask about the blend of botanicals in his vermouth. At the end of my visit he clambers onto his vintage motorcycle as if to make a hasty exit, but before speeding off, he turns back towards me. "Vermouth is not just a drink," he says, "it's a culture." I count myself lucky to have enjoyed a taste of it.